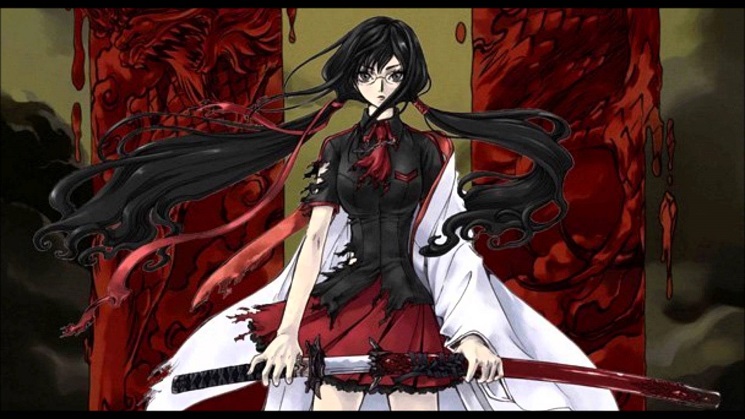 ASURA GIRL PROJECT lanzó el pasado viernes una página web para anunciar que el anime del estudio PRODUCTION I.G. y las CLAMP "Blood-C" tendrá una adaptación a la gran pantalla en formato live-action. La película, titulada "Asura Shōjo ~Blood-C Ibun~", se estrenará en los cines japoneses a principios de este otoño.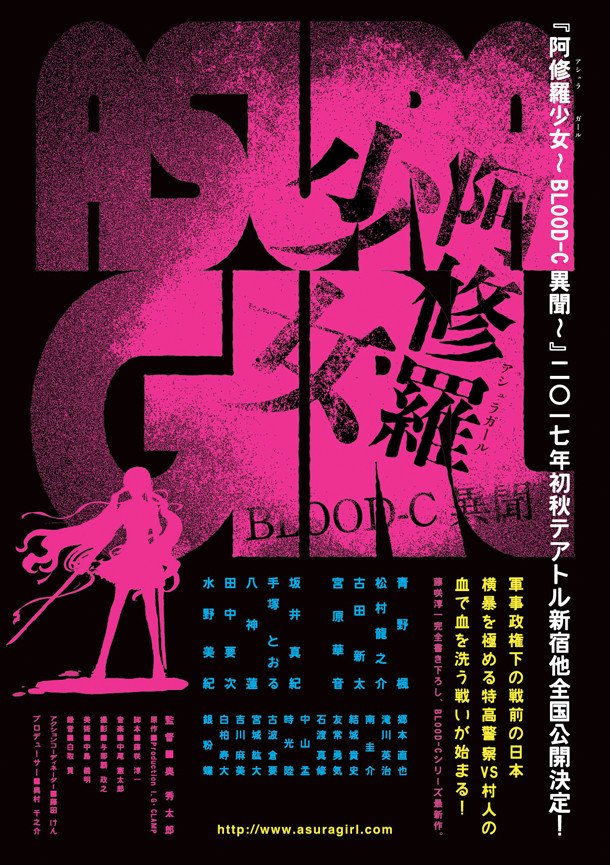 El largometraje, dirigido por
Shutaru Oku
, director de las obras de teatro
"Persona 3"
,
"Persona 4"
y
"Persona 4: The Ultimate in Mayonaka Arena"
, y guionizado por
Jun'ichi Fujisaku
(
"Ghost in the Shell: Stand Alone Complex"
,
"Blood-C"
)
,
contará una nueva historia que tendrá lugar en una época previa a la Segunda Guerra Mundial, en la que seremos testigos de un sangriento conflicto entre los civiles y las fuerzas especiales de la policía japonesa. La película también cuenta con
Sennosuke Okumura
en la producción y la composición de la banda sonora corre a cargo de
Kentarō Nakao
.
No es la primera vez que Shutaru Oku y Jun'ichi Fujisaku trabajan juntos en un proyecto relacionado con "Blood-C", ya que ambos dirigieron y guionizaron la obra de teatro de 2015 "Blood-C: The Last Mind". Además, parte del reparto de la película formaron parte del elenco de actores de la susodicha obra de teatro: Kaede Aono, Kanon Miyahara, Eiji Takigawa, Keisuke Minami, Mashū Ishiwatari y Asami Yoshikawa. El resto del reparto de la película es el siguiente: Arata Furuta ("20th Century Boys"), Maki Sakai ("Michiko & Hatchin"), Tōru Tezuka ("20th Century Boys 2: The Last Hope", "20th Century Boys 3: Redemption"), Ren Yagami ("Salaryman Kintaro 2"), Yōji Tanaka ("20th Century Boys 2: The Last Hope"), Miki Mizuno ("Carved"), Naoya Gōmoto ("Panikku 4 rooms Gekijo ban"), Takashi Yūki ("Bad Moon Rising"), Yūki Tomotsune ("Abekku Panchi"), Takeshi Nakayama ("Take Five: Oretachi wa Ai wo Nosomeru ka"), Riku Tokimitsu ("Bushi no Kakeibo"), Kaname Kohakura, Kōdai Miyagi, Judai Shirakashi (obra de teatro de "Haikkyu!!") y Ginpunchō.
El cuarteto mangaka CLAMP creó la historia y los diseños originales de personajes tanto de la serie que se emitió en Julio de 2011 como de la película "Blood-C: The Last Dark", la cual se estrenó en Junio de 2012, y ambos proyectos fueron producidos por PRODUCTION I.G. Tanto el anime como la película fueron distribuidos en España por SELECTA VISIÓN, mientras que el manga de Ranmaru Kotone ("Haruhi Comic Anthology", "Kimi no Na Wa"), el cual se publicó entre Mayo de 2011 y Agosto de 2012 en las páginas de la revista Monthly Shōnen Ace de KADOKAWA SHOTEN y está compuesto por 4 tomos recopilatorios, fue editado en España por NORMA EDITORIAL.
---