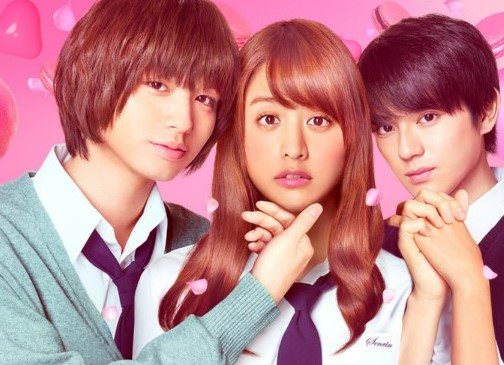 Hoy, la página web oficial del live-action de
"Peach Girl"
ha revelado un nuevo trailer donde se puede escuchar el tema principal de la película,
"Call Me Maybe"
, de la cantautora pop canadiense
Carly Rae Jepsen
.
Por otra parte, la página web también ha revelado a los nuevos actores que forman parte del largometraje caracterizados como sus respectivos personajes:
De izda. a dcha.: Yuika Motokariya como la doctora Misao Aki; Kensei Mikami como Ryō Okayasu, el hermano mayor de Kairi; Takeshi Mashu como Takashi Okayasu, el padre de Kairi; y Momoko Kikuchi como Sakurako Adachi, la madre de Momo.
La película, que adapta el manga más famoso de Miwa Ueda
(
"Angel Wars",
"Glass no Kudou"
),
nos pone en la piel de Momo Adachi (interpretada por
Mizuki Yamamoto
(live-action
"Kuroshitsuji"
)), una joven alta de complexión atlética y piel morena, pelo anaranjado y ojos grandes, cuyo aspecto hace que la gente crea que es una chica ligera de cascos, cosa que no tiene nada que ver con la realidad: la chica es así porque formó parte del equipo de natación y tiene facilidad para ponerse morena. Ella está enamorada de Kazuya "Tōji" Tōjigamori (interpretado por
Mackenyu
(live-action
"Chihayafuru"
)), el chico popular del instituto y de quien se rumorea que no le gustan las chicas de tez morena, y, por culpa de su baja autoestima, Momo decide convertirse en un prototipo de mujer que guste a Tōji, pero tiene que soportar a Sae Kashiwagi (interpretada por
Mei Nagano
(live-action
"Rurouni Kenshin"
), que gusta de ir detrás de ella y hacer que se sienta desgraciada. Entre el elenco de actores, también encontramos el debut de
Kei Inoo
, integrante del grupo idol
Hey!Say!JUMP
, en el papel de Kairi Okayasu, el fan número uno de Momo.
El manga, formado por 18 tomos, fue licenciado en España por la editorial PLANETA DE AGOSTINI; y el anime, de 25 episodios, por JONU MEDIA.
Aquí os dejamos con el nuevo trailer de la película, dirigida por
Koji Shintoku
(
"Mars"
,
"Rivers Edge Okawabata Detective Agency"
) y con banda sonora de
Kouichi Tsutaya
(
"Code Geass: Lelouch of the Rebellion"
,
"Honey and Clover"
,
"Tales of Zestiria the X"
), cuyo estreno en cines japoneses tendrá lugar el 20 de Mayo
:
---