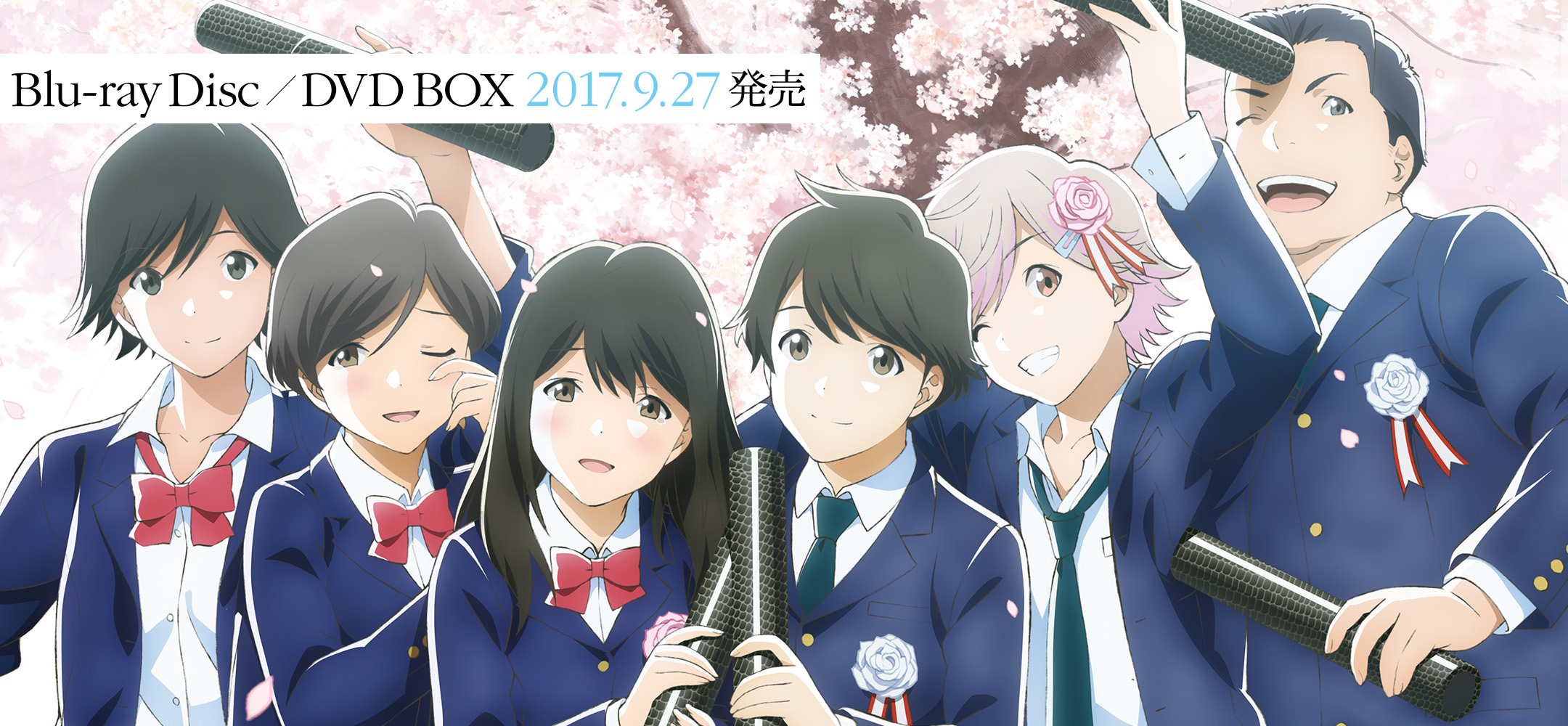 Después de tanto misterio en torno a él, por fin se revela el trailer del anime
"Tsuki ga Kirei"
, el nuevo proyecto original de
FEEL.
, estudio responsable, entre otros, de la adaptación animada de
"Dagashi Kashi"
, y cuyo estreno verá la luz el 6 de Abril.
Aparte del trailer, la página web oficial del anime también ha desvelado una nueva imagen, así como al resto del reparto de personajes, con sus respectivos dobladores, que conforman esta nueva serie:
Fila superior, de izda. a dcha.: Eishin Fudemura como Roman Yamashina, Makoto Kaneko como Daichi Ogasawara, Manaka Ishimi como Aira Miyamoto, Misono Suzuki como Setsuko Satō y Haruka Chisuga como Miu Imazu.
Fila inferior, de izda a dcha.: Honoka Inoue como Sakura Tanaka, Yūya Hirose como Shō Nagahara, Mark Ishii como Yasuhito Inaba, Haruka Shiraishi como Aoi Takizawa y Kentarō Kumagai como Tsubasa Kaneko.
Fila superior, de izda. a dcha.: Mutsuki Iwanaka como Daisuke Tachibana, Nao Tōyama como Ryōko Sonoda, Kazuo Oka como Ryūnosuke Azumi y Kikuko Inoue como Junko Azumi.
Fila inferior, de izda. a dcha.: Mitsuo Iwata como Hiroshi Mizuno, Chiwa Saito como Saori Mizuno y Ryōko Maekawa como Ayane Mizuno.
Dirigido por
Seiji Kishi
(
"Persona 4: The Animation"
,
"Ansastsu Kyoshitsu"
) y guionizado por
Yuuko Kakihara
(
"Persona 4: The Animation"
,
"Orange"
,
"Digimon Adventure Tri"
)
, el anime, cuyo diseño de personajes corre a cargo de
loundraw
,
se centra en
Akane Mizuno y Kotarō Azumi, dos estudiantes de tercer año de secundaria que coinciden por primera vez en la misma clase, y nos mostrará las relaciones y el desarrollo de cada uno de los personajes con sus compañeros, padres y profesores, así como también tratará el tema de los romances en la adolescencia y cómo éstos son inciertos y cambian con el paso del tiempo.
Los protagonistas, de izda. a dcha.: Rie Murakawa como Chinatsu Nishio,
Shōya Chiba como Kotarō Azumi, Konomi Kohara como Akane Mizuno y Atsushi Tamaru como Takumi Hira.
Aquí os dejamos con el trailer, ya disponible en el canal oficial de YouTube de
FlyingDog
, compositor de la banda sonora de la serie, en el que se puede escuchar el opening de
Nao Tōyama
, titulado
"Ima Koko"
:
---